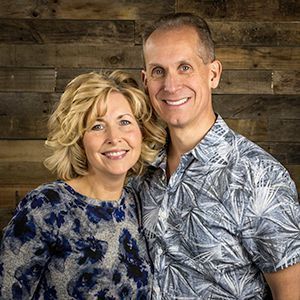 Todd and Diane planted Real Life Wesleyan Church in Mechanicsville, MD in the fall of 2008 and currently serve as Senior Pastor and Worship Director. For the previous thirteen years they served as Senior Pastor and Worship Director at the Laurel Wesleyan Church, in Laurel, DE.

Pastor Todd has a Bachelor's Degree from Eastern Nazarene College, a Master of Ministry Degree from Indiana Wesleyan University, and a Doctor of Ministry degree from Talbot Theological Seminary. Pastor Todd is a big fan of The Indianapolis Colts, triathlons, and cookies- Though not necessarily in that order.

Diane is a graduate of Roberts Wesleyan College with a degree in Music Education and has a great passion to raise up the next generation of worship leaders.
Their greatest joys in life include their extremely happy marriage of 28 years and their partnership in raising their five children for Christ.
Spiritual Formations Pastor
Pastor Chris has served on staff at Real Life since January 2017. Pastor Chris is the assistant pastor specializing in Spiritual Formation, Discipleship and Life Groups. Pastor Chris has a bachelor's degree in Biblical Studies from Indiana Wesleyan University, a Master of Divinity from Wesley Seminary at Indiana Wesleyan University, and is currently pursuing a Doctorate in Spiritual Formation at Wesley Seminary at Indiana Wesleyan University.

Pastor Chris is originally from Droitwich Spa, England. Pastor Chris and Beth, born in Wilmington, Delaware, have been married for 26 years and met while working together as counselors at the UMC Camp Pecometh on the Eastern Shore of Maryland. They have three children, Rebekah, Joshua, and Daniel. Beth serves in the Children's ministry at Real Life.
Their greatest joy in life has been serving in the Kingdom of God in various capacities and are excited for the future of Real Life and all that they can do to reach people for Jesus Christ in Southern Maryland.
Anna has served on staff at Real Life since September 2010, first as Office Manager and then more recently as Financial Manager. Her background includes living as a full-time missionary in Mexico with her parents during her teen years; serving in Children's and Youth ministries and working in the legal and insurance industries.

Anna hails from the great state of Texas but moved here in 2007 to be near her husband's family. Her husband, Joe coordinates Real Life's video projection ministry and also helps out with IT work. Anna and Joe have twins, Levi and Lily, that were born in the Spring of 2015. So, in those rare moments when there is spare time, they enjoy exploring new places, eating adventurous foods and playing with their two dachshunds and four chickens
Amie and Tom Donovan Both grew up in Calvert County and graduated from Patuxent High School. Tom enlisted in the Air Force at 17 and served from 2001-2005. Amie has worked in the Dental field for over 10 years. Tom is an Engineering Technician for the Navy/Marine Corp on PAX River NAS for over 12 years.

Both serve in Momentum since 2016. We have 4 beautiful children and 2 dogs. We were married at Real Life on Feb 1 2013 in the small building sanctuary by Pastor Todd. We love spending time outdoors with friends and family, especially picking crabs and playing cornhole. Tom loves his crusty Van.
Allison Serves as director of "The Wild" overseeing children's ministry on all campuses of Real Life. Allison Hand spent her childhood on the beaches of sunny Largo but has lived many places as a result of being in the Navy. She emanates a deep passion to serve and participate in what God is doing in the lives of Children. As part of her growth in ministry she has been attending Liberty University and has earned a Bachelor's Degree in theology.

While in the Navy, Allison met Justin and they were married. Now out of the service, they make great teammates serving children on a weekly basis. Also, they enjoy spending their extra time with their two sons doing all sorts of outdoor activities. Soccer, kayaking, and biking are on the top of that list.
Jennifer Hogan and her husband Pat have been with Real Life since it's inception, and Jennifer has served as Operations Manager since October of 2015. Previously Jennifer worked as a graphic designer for over 20 years, but left that behind to come on board here and is using her gift of administration to serve the church and the community. She was born and raised in Southern Maryland, and after marrying her husband Patrick in 1998 and a brief move to Prince Georges County, they moved to St. Mary's county and have lived in Mechanicsville since July of 1999. They have three daughters, Nicole and Rachael, who are grown and out on their own and Erin who is in college. They also have two schnauzers, Trixie and Norton who together rule the house.

The Hogans love to spend time with family and friends. A great day probably includes eating out, watching football, or just hanging out together.
Technical Director & Assistant Children's Director
Jordan and Austin met at Real Life and were married in our new worship center in June of 2017. Austin has been on staff as our technical director since 2016, overseeing all of our lighting, video, and sound needs. He has been involved in church media and production for over 10 years. Jordan has been volunteering in our children's ministry for several years and recently accepted a staff position to help assist our children's director.